---
Spotlight
---
The DOG DAYS Dynamic Duo VIRTUAL RECORDED TASTING
Watch a backstage account of how we review and write notes for a Sancerre like Sauvignon Blanc and a Fresh Pinot Noir
2017 Domaine Rully, Cote Chalonnaise, France (Rouge/Pinot Noir)
2018 Domaine Bernard Defaix Saint-Bris, Burgundy, France (Blanc/ Sauvignon Blanc)
A perfect Combo for August!
ON sale separately (see newsletter) but buy the "Dog Days Duo" pair (1 each)
and save an additional 10%!
CLICK HERE TO WATCH: IMG_E1405.MOV

Virtual-a-Rosé-a-Palooza
A recorded event almost as goofy as its name!
Rosé-a-Palooza is one of our biggest events with three or four tasting stations, great food and people standing shoulder to shoulder tasting wine. And, in the time of Corona Virus, that is the problem. Thus, we have decided to try our hand at a kind of virtual Rosé-a-Palooza which pales (no pun intended) in comparison to the real event. We selected 3 distributors and 9 Rosé wines. We tried to pick interesting wines that we had not opened before (difficult as we have been doing this event for 10 years and have opened at least 150 different wines.) The wines and distributors are listed below.
Now, here are the deals:
Buy any Distributor 3 pack and save 10%!
or
Mix and match any 6 wines (must be at least three different wines) from any of the three distributors and save 10%!
or
 Buy a super pack of all nine Rosé wines and save 15%!
Overly bloody Complicated? You Bet!
 What else would you expect from us!
Here are the selections and videos:
Native Selections "pack"
Click here to download the Tasting Video:Native_Selections.MOV


2018 Les Parcelles Tète Nat' "Igny Rusé" Rosé.  $28.99
2018 Cirelli La Collina Biologica Cerasuolo d'Abruzzo DOC  $20.99
2018 Fabien Jouves - Rose Vin de France A Table 2018 $23.99
Potomac Selections Pack
Click here to download the Tasting video: Potomac_Selections.mov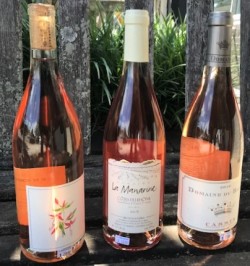 2019 Arnot-Roberts Touriga Nacional Rose, California $28.99
 2019 Domaine La Manarine Cotes du Rhone Rose, Rhone, France $16.99
2019 Domaine du Bagnol Cassis Rose, Provence, France. $33.99
Plant wines Pack
Click here to download the tasting video:Plant_Wines.mov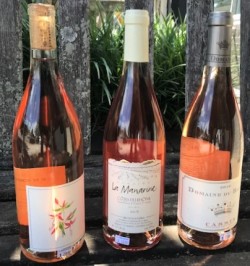 2019 Chateau Guilhem 'Le Pot de Vin' Rose, IGP d'Oc, France  $16.99
2019 Weingut Pittnauer Burgenland Rose, Austria,  $19.99
 NV  1 liter Poderi Cellario E' Rosato, Piedmont, Italy  $21.99
To ORDER:
Call us at : (804) 285-8011
or
email us at:
__________________________________________________________________________________
2020_Fall_DI_Offer_-_Germany_Austria_-_Sales.pdf
CURBSIDE AND DELIVERY OPTIONS
Here are some options for you to consider for curbside pick-up or delivery. Remember you save 10% on mixed cases and 15% on solid cases!
We offer curbside pick up and FREE delivery within 1 mile and north of the river for orders over $100! Depending on the address, deliveries outside our area will be between $10 and $15. All delivery fees go directly to the delivery driver. Make your selections from some of the options presented below or give and give us a call at 804-285-8011
or email us at: .
Items are updated daily BUT some items may be out of stock. This represents ONLY a SMALL part of our inventory.If you do not see your favorite wine, just ask.
Our Monthly case is always our first option. The JUNE Case-of-the-Month offers 12 wines for $11%.99. See the monthly specials tab on our website for more information!

SELECTED SPARKLING WINES AND CHAMPAGNE


Sparkling
NV Birichino Petulant Naturel Malvasia Bianca, Monterey, USA,- $28.99
NV Bohigas Reserva Brut Cava, Catalonia, Spain, - $15.99
NV Adriano Adami Garbel Prosecco Treviso Brut, Veneto, Italy - $15.99
NV Paris-Simoneau Brut. "AS", Loire, France, - $15.99
NV Wolfberger Cremant d'Alsace Brut, France, $15.99
NV Domaine Rolet Pere & Fils Cremant du Jura Brut, France, - $24.99
NV Domaine Rolet Pere & Fils Cremant du Jura Rose Brut, France - $24.99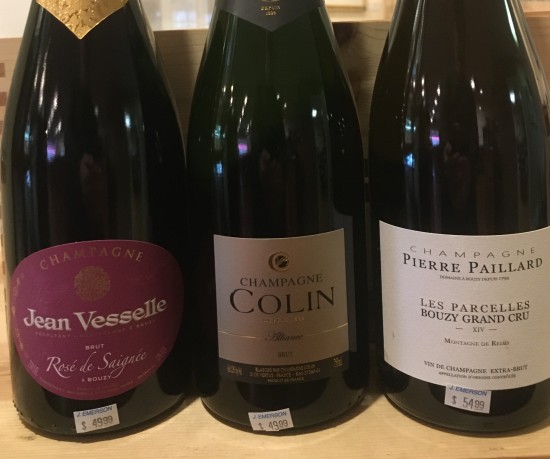 Champagne
NV Jean Vesselle Brut Rose de Saignee, Champagne, France - $49.99
NV Colin Cuvee Alliance, Champagne, France - $49.99
NV Pierre Paillard 'Les Parcelles' Bouzy Grand Cru Extra Brut, Champagne, France - $54.99
SELECTED 2019 ROSE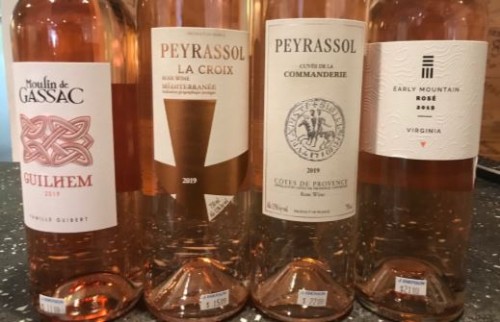 2019 Moulin de Gassac 'Guilhem' Rose, IGP Pays de l'Herault, France - $11.99
2019 Peyrassol 'La Croix des Templiers' Rose, IGP Mediterranee, France - $15.99
2019 Peyrassol Cotes de Provence 'Commanderie de Peyrassol' Rose, France - $22.99
2019 Early Mountain Rose, Virginia, USA - $21.99

SELECTED ITALIAN RED AND WHITE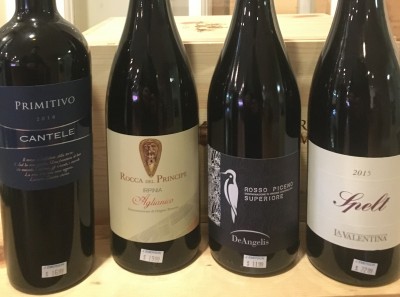 Southern and Central Italy
2016 Cantele Primitivo Salento IGT, Puglia, Italy - $16.99
2013 Rocca del Principe Irpinia Aglianico, Campania, Italy - $19.99
2016 Tenuta De Angelis Rosso Piceno Superiore, Marche, Italy - $11.99
2015 La Valentina Spelt Montepulciano d'Abruzzo Riserva, Italy - $22.99
Tuscan Red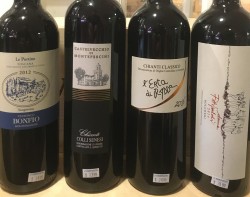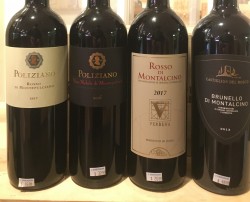 2012 Federico Bonfio 'Le Portine' Sangiovese Toscana IGT, Tuscany, Italy - $14.99
2017 Fattoria Montepescini Chianti Colli Senesi DOCG, Tuscany, Italy - $13.99
2016 L'Erta di Radda Chianti Classico DOCG, Tuscany, Italy - $24.99
2014 Donne Fittipaldi Bolgheri, Tuscany, Italy - $31.99
2017 Poliziano Rosso di Montepulciano, Tuscany, Italy - $16.99
2016 Poliziano Vino Nobile di Montepulciano DOCG, Tuscany, Italy - $29.99
2017 Verbena Rosso di Montalcino, Tuscany, Italy - $26.99
2013 Castiglion del Bosco Brunello di Montalcino DOCG, Tuscany, Italy - $48.99
Northern Italian Reds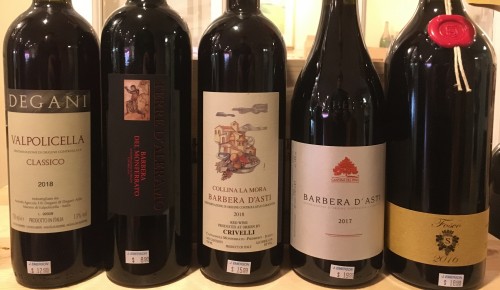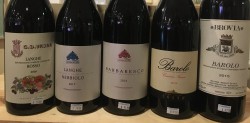 2018 Degani Valpolicella Classico, Veneto, Italy - $12.99
2018 Sulin Barbera del Monferrato DOC "Terre D'Aleramo", Piedmont, Italy - $8.99
2018 Crivelli 'Collina La Morra' Barbera d'Asti DOCG, Italy - $15.99
2017 Cantina del Pino Barbera d'Asti DOCG, Piedmont, Italy - $19.99
2016 Salvano Fosco, Dolcetto di Diano d'Alba DOCG, Italy - $18.99
2018 G.D. Vajra Langhe Rosso, Piedmont, Italy - $15.99
2017 Cantina del Pino Langhe Nebbiolo, Piedmont, Italy - $24.99
2014 Cantina del Pino Barbaresco DOCG, Piedmont, Italy
2010 Cantina Terre del Barolo 'Vinum Vita Est' Barolo Riserva DOCG, Piedmont, Italy (not pictured) $29.99
2012 Elvio Cogno Barolo Cascina Nuova, Barolo DOCG, Italy - $54.99
2015 Brovia Barolo DOCG, Piedmont, Italy - $62.99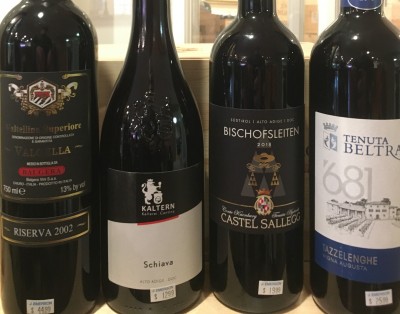 2002 Balgera Valgella Riserva, Valtellina Superiore DOCG, Italy - $44.99
2018 Kellerei Kaltern Schiava, Trentino-Alto Adige, Italy - $12.99
2018 Castel Sallegg 'Bischofsleiten' Lago di Caldaro Classico, Trentino-Alto Adige, Italy - $19.99
2015 Beltrame Tazzelenghe delle Venezie IGT, Italy - $25.99
Northern Italian White Wines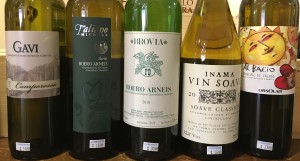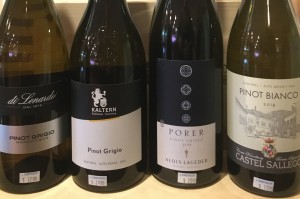 2018 Camporosso Gavi di Gavi DOCG, Piedmont, Italy - $14.99
2018 Taliano Michele Serni, Roero Arneis DOCG, Italy -
2018 Brovia Roero Arneis DOCG, Piedmont, Italy - $30.99
2018 Inama Vin Soave Classico, Veneto, Italy - $16.99
2018 Orsolani Al Bacio, Erbaluce di Caluso DOCG, Italy - $13.99
2018 di Lenardo Vineyards 'Monovitigno' Pinot Grigio, Friuli-Venezia Giulia, Italy - $12.99
2018 Kellerei Kaltern Pinot Grigio Alto Adige, Trentino-Alto Adige, Italy - $14.99
2018 Alois Lageder Tenutae Lageder 'Porer' Pinot Grigio Alto Adige, Trentino-Alto Adige, Italy - $29.99
2018 Castell Salegg Pinot Bianco Prey Sudtirol - Alto Adige, Trentino-Alto Adige, Italy - $19.99
Southern / Central Italian White Wines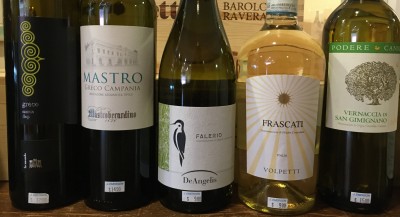 2017 La Guardiense 'Castel Fremondo' Greco Sannio, Campania, Italy - $12.99
2017 Mastroberardino 'Mastro Greco' Campania IGT, Italy - $14.99
2017 La Fortezza Falanghina del Sannio Taburno, Campania, Italy - (not pictured) $17.99
2018 Tenuta De Angelis Falerio, Marche, Italy - $9.99
2018 Podere Canneta Vernaccia di San Gimignano DOCG, Tuscany, Italy - $15.99
2018 Cantine Volpetti Frascati DOC, Lazio, Italy- $9.99
SELECTED FRENCH RED & WHITE
Bordeaux Red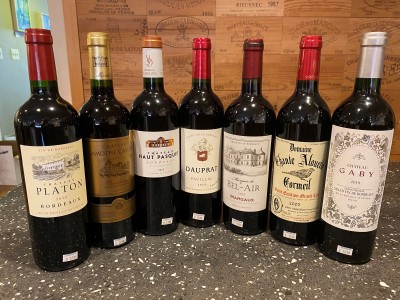 2018 Chateau Platon, Bordeaux, France - 12.99
2018 Chateau Lamothe Castera, Bordeaux, France - $12.99
2016 Vignobles Dubourg Chateau Haut-Pasquet, Bordeaux, France - $13.99
2014 Chateau Dauprat, Pauillac, France - $35.99
2015 Marquis De Bel Air, Margaux, France - $29.99
2002 Vignobles Yves Delol Domaine Chante Alouette Cormeil, Saint-Emilion, France - $32.99
2010 Chateau du Gaby, Canon-Fronsac, France - $53.99
Rhone Red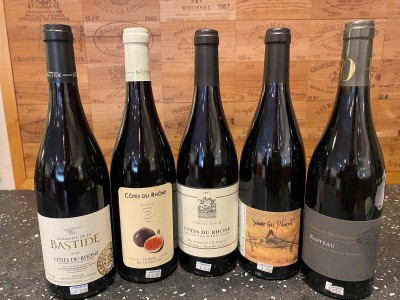 2018 Domaine de la Bastide Cotes du Rhone, France - $12.99
2018 Domaine de la Bastide Cotes du Rhone 'Figues', Rhone, France - $12.99
2017 Kermit Lynch Selections Cuvee Cotes du Rhone, France - $15.99
2018 Cave des Vignerons d'Estezargues Domaine Gres Saint Vincent Cotes du Rhone Villages Signargues, France - $15.99
2016 Romain Duvernay Rasteau, Rhone, France - $23.99
Southwest French Red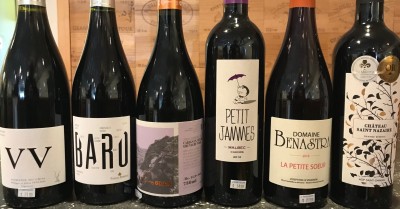 2016 Domaine du Cros 'Cuvee VV' Vieilles Vignes, Marcillac, France - $21.99
2018 Domaine Barreau "Baro", IGP Cotes Du Tarn, France - $11.99
2018 Domaine des Deux Cles Corbieres Rouge, Languedoc-Roussillon, France - $24.99
2016 Georges Vigouroux Chateau Pech de Jammes 'Petit Jammes', Cahors, France - $14.99
2018 Domaine Benastra 'La Petite Soeur" IGP Cotes Catalanes, France - $21.99
2018 Chateau Saint Nazaire Saint-Chinian Grand Reserve, Languedoc-Roussillon, France - $12.99
Beaujolais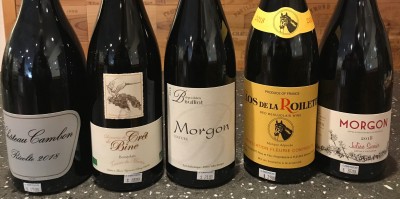 2018 Domaine Marcel Lapierre Chateau Cambon Beaujolais, France - $19.99
2018 Domaine du Cret de Bine Beaujolais 'La Cuvee de Francois', France - $18.99
2018 Vignobles Bulliat Morgon Nature, Beaujolais, France - $21.99
2018 Coudert Pere 'Clos de la Roilette' Fleurie, Beaujolais, France - $29.99
2018 Domaine Julien Sunier Morgon, Beaujolais, France - $36.99
US RED AND WHITE

California Cabernet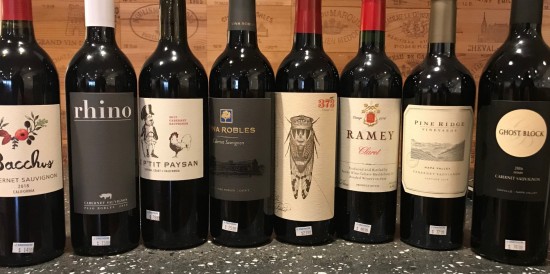 2018 Bacchus Cellars Cabernet Sauvignon, California, USA - $14.99
2018 Rhino Cabernet Sauvignon, Paso Robles, USA - $15.99
2017 Le P'tit Paysan Cabernet Sauvignon, Central Coast, USA - $28.99
2017 Vina Robles Cabernet Sauvignon, Paso Robles, USA - $25.99
2018 The Fableist 373 Cabernet Sauvignon, Paso Robles, USA - $23.99
2016 Ramey Claret, Napa Valley, USA - $46.99
2016 Pine Ridge Vineyards Napa Valley Cabernet Sauvignon, California, USA - $72.99
2016 Ghost Block Estate Cabernet Sauvignon, Oakville, USA - $76.99
California Chardonnay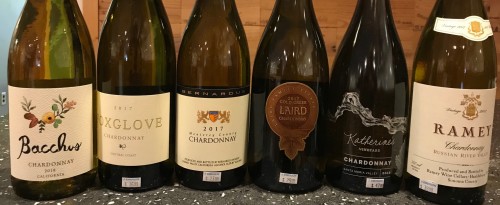 2018 Bacchus Cellars Chardonnay, California, USA - $12.99
2017 Foxglove Chardonnay, Central Coast, USA - $16.99
2017 Bernardus Chardonnay, Monterey County, USA - $23.99
2017 Laird Family Estate Cold Creek Ranch Chardonnay, Carneros, USA - $29.99
2015 Cambria Estate Winery Katherine's Vineyard Chardonnay, Santa Maria Valley, USA - $47.99
2017 Ramey Chardonnay, Russian River Valley, USA - $39.99
March 21, 2020 4:56