---
Spotlight
---
2007 GERMANS FROM THEISE HAVE ARRIVED!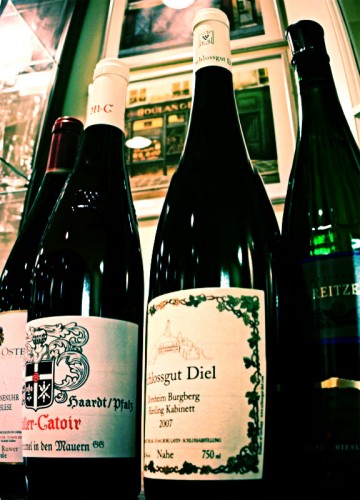 After months of anticipation, we've finally received our shipment of 2007 German wines from notorious wine importer and outsize personality Terry Theise. In the wine world, there are importers and then there are persons like Terry, whose zeal and manic obsession with the wines he sells pushes him into a category all unto himself. Reading about a topic such as German riesling vintages can easily veer sharply into dry, academic prose, yet Terry's catalogs are by far the most entertaining literature that we receive here at the shop. Of course, talk is cheap, but fortunately, he also happens to represent some of the very best producers making wine in Germany today.
To say that Mr. Theise is passionate seems to be a bit of an understatement. It's invigorating to find an importer who kicks off their portfolio with a written manifesto—unapologetic and sincere, seemingly as much concerned with a mission statement as with a business plan:
theise manifesto
Beauty is more important than impact.
Harmony is more important than intensity.
The whole of any wine must always be more than the sum of its parts.
Distinctiveness is more important than conventional prettiness.
Soul is more important than anything, and soul is expressed as a trinity of
family, soil and artisanality.
Lots of wines, many of them good wines, let you taste the noise. But only the
best let you taste the silence.
Of course, he's also quite the convincing salesman, too, and a few paragraphs into his catalog, you're practically salivating over the thought of a chilled bottle of kabinett. If you're at all interesting in riesling and you've got some time to spare, you should definitely check out Terry's highly entertaining and informative catalog.
We're very excited to be offering these wines from these top-tier producers for the first time at J. Emerson's. If you're a lover of white wines, don't pass up a chance to try some of these offerings for yourself.
Here's a sneak peak of some of the new arrivals (more information to come in the following weeks):

Donnhoff Riesling 2007 (Nahe) $24.95
Spreitzer Winkeler Jesuitengarten Riesling Spatlese 2007 (Rheingau) $38.95
Wagner-Stempel Riesling Trocken 2007 (Rheinhessen) $24.95
Selbach-Oster Zeltinger Sonnenuhr Riesling Auslese 2007 (Mosel) $64.95
Muller-Catoir Haardt Riesling Kabinett Trocken 2007 (Pfalz) $36.95
Schlossgut Diel Dorsheim Burgberg Riesling Kabinett 2007 (Nahe) $39.95
Muller-Catoir "Breumel In Den Mauern" Grosses Gewachs Riesling 2007 (Pfalz) $89.95
Jakob Schneider Riesling Kabinett 2007 (Nahe) $18.95
November 25, 2008 10:00
---
A VISIT WITH LUCA CURRADO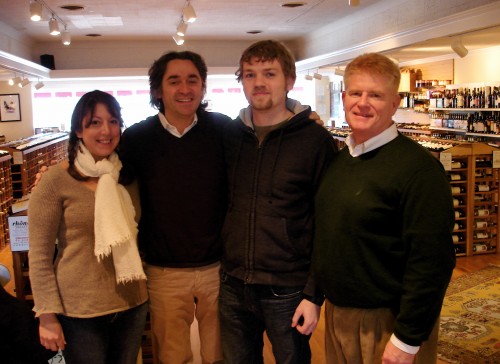 Mondays are usually a slow day around the shop, so we were very excited to have a chance to welcome a very special guest to the shop today, Luca Currado, winemaker extraordinaire from Vietti winery in the Piedmonte region of northern Italy. We have many winemakers from around the world visit us quite regularly, but it's a rarity to have a chance to taste wines and talk with someone behind such a legendary property. For those of you who may be unfamiliar with Vietti, here's what Antonio Galloni from the Wine Advocate has to say about them from Issue #178 (August 2008):
Vietti is one of the most historic properties in Piedmont. The estate is best known for its top-flight Barolos, yet in recent years I have been equally impressed with the entry-level wines. These are among the finest wines being made anywhere in Italy. The Langhe Nebbiolo Perbacco, which is made from Barolo-classified vineyards, in particular, is one of the great values in wine today.
We've been champions of Vietti's wines for several years now, and it's always great to be able to meet the person behind the label. Given the stature and quality of the wines, it's incredible how humble and personable Luca came across as we talked with him. The wines, too, are assured and brimming with personality, yet they don't have to scream or assault your palette to get their point across. It's incredible to find a winery producing such interesting and consistently excellent wines from an entry level Barbera to a single-vineyard Barolo, especially at such reasonable prices compared to some of their neighbors. If you have yet to try Vietti's wines, you owe it to yourself to see what you've been missing.
November 17, 2008 6:42