---
Spotlight
---
A SPECIAL TASTING WITH ROBERT FOLEY - MAY 7th
Please join us on Thursday, May 7th between 6 and 8 pm for a very special tasting with Bob Foley of Robert Foley Vineyards.
This will be a wonderful chance to meet Bob and try some excellent wines.
Robert Foley began his wine making career in the Napa Valley in 1977, working at a number of highly regarded Napa Valley wineries including the famous Pride Mountain Vineyards, where he spent 15 years as founding wine maker. During this period he also created the highy acclaimed Switchback Ridge, Hourglass, Paloma, School House, and Engel Family wines.
In 1998 Robert Foley Vineyards bottled their first Claret, a blend of Cabernet Sauvignon and Merlot and over the last 10 years have expanded and diversified their own production.
Bob's reputation for producing very expressive wines which finish gracefully continues to develop at the new winery facility on the summit of Napa County's Howell Mountain. Bob and wife and Business Manager Kelly Kehoe house over 1000 barrels in an extensive cave system which they completed in summer of 2008 for the production of Robert Foley wines.
Here is a list of the Robert Foley wines we will taste:
2007 Pinot Blanc
2006 Charbono
2007 Petite Sirah "Muscle Man"
2005 Claret
April 29, 2009 4:55
---
NEW ARRIVALS - 4/23/2009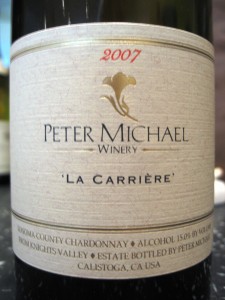 Peter Michael "La Carriere" Chardonnay 2007
For California wine afficionados, the name Peter Michael needs no introduction. Although there are several top-quality producers in Napa and Sonoma turning out breathtaking Chardonnay, Peter Michael has a track-record that is as strong as any. With a few years of bottle age, these wines are prime examples of what's possible with Chardonnay from California. While the "La Carriere" maybe isn't priced for a Tuesday night dinner for most of us, if you're at all into California Chardonnay, this is a great quality splurge where the hype is actually justified. $89.95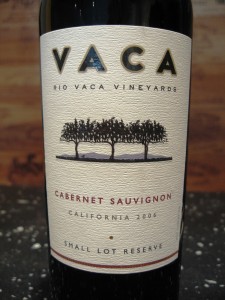 Vaca California Cabernet Sauvignon 2006
Perhaps it's just us, but there's always something a bit off-putting about a wine that seems specifically designed to capture a certain segment of the wine market rather than one that is birthed out a desire to capture the characteristics of grapes from a particular place from a specific vintage. Call us hopelessly high-minded or naïve—wine is big business these days, after all. However, once in a while we come across one of these "designer" wines that, as much as we hate to admit it, is actually very good. Unabashedly modern and sleek, this wine is loaded with fruit and a great texture and dose of vanilla and oak. Quintessential California Cabernet at a very fair price. $13.95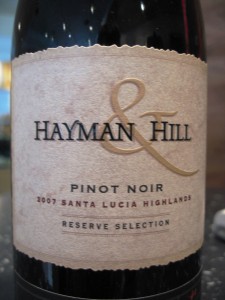 Hayman & Hill Sta. Lucia Highlands Pinot Noir 2007
We constantly struggle, and sometimes rather loudly complain about our struggle, to find solid, well-made Pinot Noir that we can sell for less than $15 that actually tastes like Pinot Noir. While we belly-ache and groan, somewhere somebody must be listening to our gripes, as once in a while we find one we actually like. We found this to be a very solid Pinot for the price, and certainly one of the most affordable reds from the Sta. Lucia Highlands that we've seen on the market. $14.95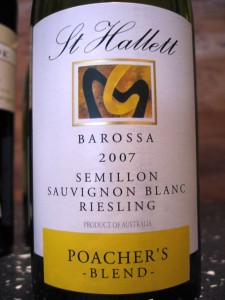 St. Hallet "Poacher's Blend" White 2007
We opened up a bottle of the "Poacher's Blend" this past Saturday and we got a great response from the people that tasted it. An unusual blend of Riesling, Semillon, and Sauvignon Blanc from Australia's Barossa Valley, this wine combines some of the best attributes of each of the three component grapes, creating a sum that's greater than the individual parts. This is an emminently refreshing, bright wine that's perfect for the summer-like temperatures that are coming our way. After tasting this wine, several of us on staff have already retracted some of the unkind things we've said about Australian Riesling in the past. $11.95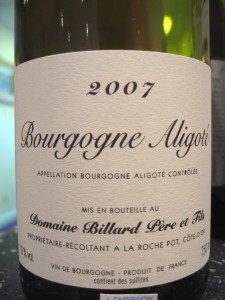 Domaine Billard Bourgogne Aligote 2007
Ahh, Aligote, the poor, neglected stepchild of the world of white Burgundy, forever condemned to a second-place showing next to its prettier older sister, Chardonnay. But relegating this wine to the footnotes isn't exactly fair, as Aligote can make some very interesting wines that can still stand on their own despite the tall shadows of Chardonnay. Billard's Aligote has plenty of concentration and Aligote-ish sweet-n-sour character, with the hallmark pop of acidity on the finish that cries out for seafood. Two cheers for white Burgundy's Cinderella grape! $13.95
Mordoree "Reine du Bois" Lirac Rouge 2007
Considered by some to be one of the greatest Lirac producers in the Rhone Valley, Mordoree's top-end Lirac Rouge is perennially a powerhouse of a wine that competes with many Chateauneuf du Papes in terms of complexity and ageability. From a very good vintage in a string of good vintages for the region, this is certainly a serious, cellar-worthy Rhone that won't crush your pocketbook. $36.95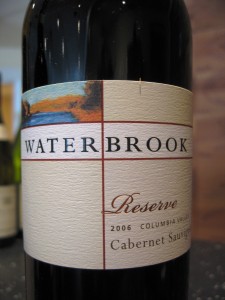 Waterbrook Columbia Valley Cabernet Sauvignon Reserve 2007
When talking with visiting winemakers from the West Coast, we hear again and again about the great leaps and bounds that have been made in Washinton State winemaking in the past few years. While Washington State reds aren't quite as hot here out east, more and more heads are starting to turn as these wines continue to earn fantastic press and respect from the wine-drinking public. Here's a very good Cabernet Sauvignon from the Columbia Valley that definitely delivers and makes a good case for the region without a Quilceda Creek-like pricetag. $25.99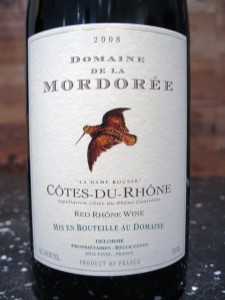 Mordoree Cotes du Rhone Rouge 2008
This is another wine that might not need much of an introduction amongst our regulars. Mordoree's wines continue to be solid year-in, year-out, and the 2008 vintage of their Cotes du Rhone Rouge is no exception. If we haven't beaten this point to death already, the recent vintages of Cotes du Rhones are some of the best quality-to-price ratio wines in the world, completely over-delivering for the money. We don't want to insult anyone's intelligence by being belligerently insistent upon this point, but we're just trying to help everyone drink better after all… $13.95
Mordoree "Reine du Bois" Chateauneuf du Pape Rouge 2007
If you couldn't already tell, the Mordoree fairy flew into town last week and left cases and cases of Rhones under our pillows. We tasted the 2007 Chateauneuf du Pape Rouge several months prior, and while this is an untamed behemoth of a wine right now, we expect this to eventually come around to a nice happy place (in the meantime, drink up some of their delicious Cotes du Rhones and Liracs!). As usual with the Mordoree wines, Robert Parker from the Wine Advocate does leaping backflips for this wine and for the 2007 vintage as a whole. $89.95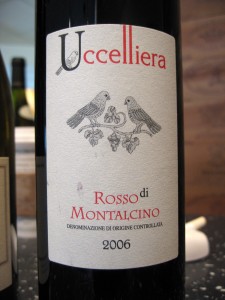 2006 Uccelliera Rosso di Montalcino
Finding out that you enjoy drinking Brunello di Montalcino is one of life's most wonderful/terrible maladies, especially when you're the one shelling out the coin for the bottles. While it's easier than ever to drink great Brunello these days, it hasn't gotten any less expensive, and there's still plenty of mediocre, insipid juice on the market that barely outpaces a great $25 Chianti Classico. Uccelliera consistently turns out fantastic Brunello, and while we're eagerly awaiting the arrival of their much-hyped 2004 vintage, we have some great Rosso di Montalcino to drink in the interim. For any fan of Tuscan red wines, this is one not to miss. $32.95
April 23, 2009 5:23
---
Wine Dinner with Hawley Vineyards and Winery in conjunction with Zed Cafe
We're happy to announce that we will be sponsoring a wine dinner with Hawley Vineyards and Winery at Zed Cafe on Sunday, April 26.
Here's more information about the dinner, courtesy of Zed Cafe:
"We are excited to announce the return of our monthly wine dinners!
Zed along with with J. Emerson features wines from Hawley Vineyards and Winery presented by Paul Hawley with Katie D'Orazio from Downey Selections.
April 26th
7:00 P.M.
MENU
Manikintowne Arugula, Dates, Slice Almonds, Apples, Manchego Cheese
Viognier 2007 (Sonoma Valley)
Pan-Seared Scallops w/Celeriac Puree, White Balsamic Reduction
Chardonnay 2006 (Russian River Valley)
Duck Breast, Mushroom Rissotto, Black Currant Sauce
Pinot Noir 2006 (Russian River Valley)
Chocolate Souffle
Late Harvest Zinfandel 2007 (Dry Creek Valley)
$60 pp (all inclusive)
For Reservations Call:
804.261.5656"
April 17, 2009 2:35
---
NEW ARRIVALS FOR THE WEEK OF APRIL 12, 2009
We said we we didn't need any more new wines, but as usual, we couldn't resist. Here's a few new items that came in this week that we're especially excited about:
-2004 Produttori del Barbaresco "Rabaja" Riserva (Piedmonte, Italy): Perhaps there's no more well-regarded grower's cooperative in the wine world than the legendary Produttori del Barbaresco, and within the hierarchy of great vineyards within the Barbaresco area, Rabaja is almost universally placed near the very top. Couple all of this with a fantastic vintage in Piedmonte and you have all the makings of an exceptional Barbaresco. A very limited quantity available. $66.95
-2000 Clos de Templiers Lalande de Pomerol Rouge (Bordeaux, France): A late arrival from Bordeaux that didn't make it in with the rest of the 2000s that came in earlier this year. An extremely elegant Merlot-dominated Bordeaux, the 2000 Clos de Templiers is silky smooth with an underlying structure that would play well with a steak. $19.95
-2000 "L" de La Louviere Pessac-Leognan Rouge (Bordeaux, France) – Another late arrival from Bordeaux, the "L" de La Louviere is La Louviere's second wine. This is classic Bordeaux, power wrapped up in elegance, the proverbial iron fist in a velvet glove. From the Wine Spectator website: "Dark colored, with a fantastically deep and rich nose of crushed currants and berries, with hints of new wood. Full-bodied, with super, well-integrated tannins and a long, caressing finish. Very well-crafted. Almost too good for a second wine. One point less than the grand vin. Best after 2008. 3,330 cases made. 90pts." $43.95
-2007 Adegas Cachín "Peza do Rei" Mencia (Ribeira Sacra, Spain): Since northwest Spain's white wines receive so much attention (Albarino, anyone?), it's unfortunate that their fantastic reds sometimes get overlooked. It seems that this is starting to change, though, as the regions of Bierzo and Ribeira Sacra are undergoing a viticultural renaissance, thanks in part to the area's indiginous Mencia grape. Since Roman times, the steep, terraced hillsides of Ribeira Sacra have been planted with grapes, but only recently has there been a real shift towards producing distinctive, high-quality wines. This is one of the most elegant and poised Spanish reds that we've encountered recently, generous with red berry fruit and a touch of smokiness. Think of this as the hypothetical Spanish lovechild between Crozes-Hermitage and great Cru Beaujolais. Only 200 cases produced. $23.95
-2006 Primarius Pinot Noir (Oregon): We're always on the lookout for inexpensive Pinot Noir from Oregon, but "inexpensive" and "Pinot Noir" are somewhat mutually exclusive terms. We struggle to find wines in the sub-$20 price range in this category that we like, but once in a while we find one that hits all the right notes and doesn't cross that $19.95 threshold. We're happy to introduce Primarius as another great option from Oregon that is affordable enough for a Tuesday night and still delivers. $16.95
-2007 Clos du Tue-Boeuf "Frileuse" Cheverny Blanc (Loire Valley, France): Delicious, delicious, delicious Sauvignon Blanc and Chardonnay blend from the Loire Valley. From natural winemaking star Thierry Puzelat's home estate, this organic, unfiltered Sauvignon is fairly full bodied and complex, and on the nose picks up a slight hint of orange peel. Not only is this one of the more distinctive whites from the Loire we've brought in recently, but it's also being offered at a reduced price (this is the last of the 2007 vintage). Did we mention that it has a painting of a flying cow (!) on the label? $13.95 (normally $17.95)
-2008 Ricossa Moscato d'Asti (Piedmonte, Italy): Cheap Moscato d'Asti can be a dicey affair, cloyingly sweet and devoid of any balancing acidity. We're excited to prsent to you the Ricossa Moscato d'Asti, refreshing, off-dry, loaded with peachy goodness, and not at all cloying. Moscato is the sweet wine that people who claim to hate sweet wine drink when nobody is looking. Yet another candidate in the running for the Best Springtime Back Porch Wine Contest 2009. $11.95
-2008 Castle Rock Pinot Noir (Willamette Valley, Oregon): For our regulars, this wine almost needs no introduction. By a tremendous margin, the 2007 vintage of the Castle Rock Willamette Valley Pinot Noir was the best selling Pinot Noir here at J. Emerson in 2008. While a lot of that is attributable to an extremely modest pricetag (especially considering it's from the Willamette Valley), the other distinguishing feature of this wine is that it actually tastes like pinot (which shouldn't be a remarkable thing, but at this price, it's an unfortunately rare occurance). $13.95
-2006 Le Briseau "Patapon" Pinot d'Aunis (Loire Valley, France): Whether it's the drawing of the weird, creepy clown on the label that bears a disturbing resemblance to Jack Nicholson, or that the wine is made from that obscure footnote of a grape, Pinot d'Aunis, we couldn't pass up this one. Light bodied, funky and delightfully unusual, this wine is made from all organic Pinot d'Aunis (aka Chenin Noir) grapes from the northerly Coteaux du Loir appelation. While we realize this isn't a wine that's for everyone (many people are terrified of clowns), it's brimming with character and is anything but the same ol' pinot. $17.95
April 14, 2009 10:05
---
Our April Tasting - "APRIL MADNESS"
Thursday, April 16th from 5:00 pm to 7:00 pm at our Store on Grove Ave.
Please join us as we open some outstanding older wines from our cellar:
1998 Leroy Bourgogne Blanc (Burgundy)
2000 Viader Cabernet Sauvignon (Napa Valley)
2000 Spottswoode Cabernet Sauvignon (Napa Valley)
2002 D'Arenberg "Dead Arm" Shiraz (Australia)
2001 Bocquenet Echezeaux Grand Cru (Burgundy)
Special pricing will be available for purchases made during the tasting.
April 13, 2009 4:39
---
Saintsbury Sampler – 6 for $149.95!
5 Single Vineyard Pinot Noir and 1 Single Vineyard Chardonnay
Saintsbury Winery has been around since the late 1970's, initially making their wines from fruit purchased from contracted growers. Owners David Graves and Dick Ward planted their first estate vineyard in 1986, and by 1997 had begun to produce single-vineyard offerings, beginning with the Brown Ranch vineyard. Since then, they've established contracts with other vineyards to produce an entire line of vineyard-designate Pinot Noir and Chardonnay.
One trend over the past decade or so in California is to make powerhouse Pinot Noir that mimics the intensity of Cabernet Sauvignon, bearing little resemblance to the delicate and elegant pinots from Burgundy. Saintsbury has been crafting wines from the cool-climate Carneros district of southern Napa, resulting in wines that emphasize finesse over intensity.
We're offering a mixed six-pack of Saintsbury single-vineyard wines from the 2006 vintage, featuring one bottle each of the following wines:
-2006 "Toyon Vineyard" Pinot Noir
-2006 "Cerise Vineyard" Pinot Noir
-2006 "Brown Ranch Vineyard" Pinot Noir
-2006 "Stanly Ranch Vineyard" Pinot Noir
-2006 "Lee Vineyard" Pinot Noir
-2006 "Brown Ranch Vineyard" Chardonnay
A mixed six-pack of these wines would ordinarily sell for $285 at their normal retail price. Until the end of April, we're offering the six-bottle case for $149.95 ($24.99/bottle), 47% off the normal retail price, and 27% off of our already reduced single-bottle price of $34.95 per bottle. If you're a fan of well-crafted, elegant California pinot noir, here's a chance to drink better than usual without breaking the bank. Quantities are limited and all wines are available on a first-come basis.

REVIEWS
Allen Meadow's Burghound is an indispensible resource for information and reviews of wines from Burgundy, and his reports occasionally venture into California Pinot Noir and Chardonnay of merit. Below are his reviews of the 2006 Pinot Noir offerings from Saintsbury:
2006 Saintsbury Pinot Noir "Toyon Vineyard" -A subtle but nonetheless beautifully complex nose features layered red fruit and spice notes that lead to equally complex middle weight flavors that possess fine depth and relief on the energetic and persistent finish. The acid is a bit more evident on the backend but it allows the finish to remain crisp and dry. Lovely in a reserved and understated style. Score: 90
2006 Saintsbury Pinot Noir "Cerise Vineyard" - Here the nose is a step up in aromatic elegance with an ever so slightly riper array of cherry, raspberry and red pinot fruit that also carries very subtle spice notes that are reflected on the naturally sweet, intense, pure and balanced middle weight flavors that possess a dusty mouth feel and a bit better overall balance on the punchy and mouth coating finish. This is a pretty effort that should age reasonably well over the mid-term. It's certainly worth a look. Score: 90
2006 Saintsbury Pinot Noir "Brown Ranch Vineyard"- The most complex nose in the range with a sublime mix of dark red cherry, violets, blueberry and anise that merges gracefully into fresh, round and generous medium-bodied flavors that are delicious and also notably complex but lack the same fine detail of the Cerise, all wrapped in a sappy and mouth coating finish where a noticeable if discreet touch of warmth is felt. This is certainly pretty but not quite as well balanced as its Anderson Valley sibling. Score: 89
2006 Saintsbury Pinot Noir "Stanly Ranch" - Here the nose is every bit as complex as the Brown Ranch with really lovely and attractively subtle spicy red and blue fruit aromas that display a touch of cranberry before merging seamlessly into detailed, pure and delicious medium-bodied flavors that possess a dusty and ever so slightly edgy finish that is presently on the youthfully austere side that comes up just a bit short relative to the Cerise. Score: 89
2006 Saintsbury Pinot Noir "Lee Vineyard"- Intense ruby. An expressive and equally intense nose offers up dark red pinot fruit and subtle spice and vegetal notes that merge seamlessly into round, rich and pure flavors that possess good detail though the finish is youthfully austere at present and will need a few years to round out. Score: 88
April 10, 2009 3:25
---
J. EMERSON CHOCOLATES BY CHOCOLATE CRAVINGS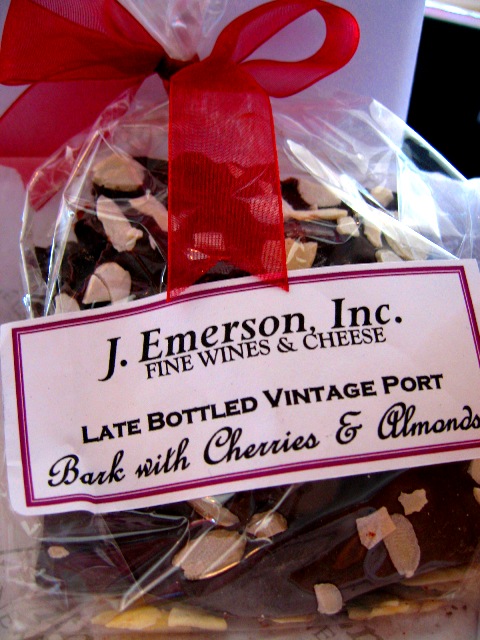 We've been working with local chocolatier Cathy Churcher, owner of Chocolate Cravings, for over a year now to bring to you our own J. Emerson Late-Bottled Vintage Port chocolates. We offer both Chocolate Truffles and a Chocolate Bark with Almonds and Cherries, both made with Taylor Fladgate LBV Port. Perfect for the Easter basket or for anytime you can come up with an excuse to indulge yourself with great chocolate.
April 09, 2009 10:14
---
A WORD ABOUT OUR PRESALES & SPECIAL OFFERS LIST
Since launching our long-overdue website at the end of 2008, we've created a Presales & Special Offers mailing list for our customers. For every lot of wine that we buy for our own inventory at the shop, we end up passing on many other great wines that are available from our wholesale suppliers. The Presale & Special Offers list is our way of passing along opportunities for purchasing new vintages from great producers at a deeply discounted prices, as well as offering one-time-only discounts on great wines that might never make it to our shelves ordinarily. While the current economic situation has put a stress on many of our pocketbooks, the corollary to this is that it's a great time for the wine consumer for finding fantastic values. In the coming weeks and months ahead, we anticipate being able to make some great offers on wines from top producers and stand-out vintages at drastically reduced prices. We've often bemoaned the steady creep of prices on imported wines over the past few years, but now it seems as if the ball is now in the consumer's court, so to speak, with importers' warehouses weighed-down by inventories of great wines that need to move to make way for the new vintages. Whether you're looking to start building a cellar on the cheap or simply drink like a king on a pauper's budget, the time has never been better to join our Presales & Special Offers mailing list (a sign-up link as located at the bottom of the page).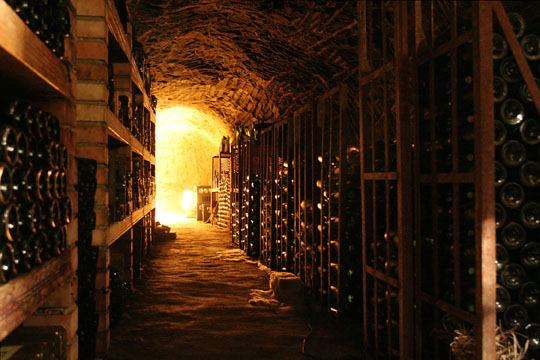 image courtesy of Wikimedia Commons
April 09, 2009 8:06
---
A "BIN ENDS" SNAPSHOT
Here's a snapshot of what's in our "Bin Ends" right now. These are typically wines of which we only have a few bottles remaining of that particular vintage and are discounted beyond their normal price.
2006 Vajra Langhe Rosso was: $14.95 now: $12.95
2006 Morgan "Cotes du Crows" Grenache/Syrah blend was: $18.95 now: $16.95
2004 Hecht & Bannier Minervois Rouge was: $16.95 now: $13.95
2007 Tres Picos Garnacha Campo de Borja was: $16.95 now: $14.95
NV Pierre Peters Brut was: $44.95 now: $40.95
2004 Ribbon Ridge Estate Pinot Noir was: $44.95 now: $40.95
While the contents of the bin changes daily, it's well worth taking a look next time you're in the shop, as some great wines end up in there regularly.
April 09, 2009 7:55
---
THIS WEEK'S NEW ARRIVALS
Spring is finally upon us here in Richmond, and we're geared up with a slew of new arrivals and new vintages of old favorites. For reasons of brevity, most of our new arrivals never make it into our monthly newsletter. Here's a peak at a few new wines that we've received over the past week or so that we're excited about.
-2006 Tres Barcos (Toro, Spain): Although the region of Toro has only been officially recognized as a Spanish D.O. since 1987, the region has a long history of viticulture, stretching back to the 1st Century B.C. when the Roman Empire stretched all the way into the northwest of Spain. Toro produces some fantastic wines from the tempranillo grape (locally known as tinto del toro, very big and structured, often in need of several years of cellaring to reach their full potential. We were thrilled to find this delicious and well-made Toro at a very reasonable price that's ready to drink right away. $12.95
-2003 Chateau Camplazens "La Garrigue" (Coteaux du Languedoc, France): We're happy to offer this delicious red from an area in the Languedoc called "La Clape" that's known for some of the best wines in the region. An estate grown and bottled blend of Grenache, Syrah, and Mourvedre, the 2003 "La Garrigue" is drinking beautifully right now, perfumed with aromas of red fruits and rosemary and thyme. $16.95
-2007 Tamar Ridge Estates "Devil's Corner" Pinot Noir (Tasmania): A gorgeous, light-bodied Pinot Noir from the cool-climes of Tasmania. Juicy with a silky mouthfeel, the Devil's Corner is a very good Pinot Noir that clocks in under $20. If this is any indication, we're excited to see what's to come from Tasmania. $18.95
-2007 Domaine de la Bergerie "La Cerisaie" Anjou Rouge (Loire Valley, France): We have had great success with Dom. de la Bergerie's Anjou Blanc in recent months and thus we're excited to bring you their red wine, "La Cerisaie." Made from 100% Cabernet Franc, this is a fantastic wine for the springtime, light to medium-bodied, bursting with berry flavors. Put a slight chill on this and enjoy! $11.95
-2007 Eola Hills Pinot Gris (Oregon): A great little Pinot Gris from Oregon's Eola Hills Winery, the 2007 vintage is a great match for salmon, roast chicken or a pork loin. $13.95
-2007 Domaine des Florets Gigondas Rouge (Rhone Valley, France): A different style of Gigondas than you might typically run across—all stainless steel fermentation and aging in cement vats, the Florets Gigondas sees no contact with wood. Fortunately, though, the wine still retains its typicity without sacrificing the purity of mineral and fruit flavors that you'd expect from Gigondas. Elegant and ready-to-go the minute you pull the cork, this is an outstanding bottling from a great vintage in the Rhone. $27.95
-2007 Dal Maso Tai Rosso (Veneto, Italy): We've been selling Dal Maso's fantastic Soave-look-alike, the "Ca' Fischele" for some time now, and we just received their red wine in time for the spring! This is on our short-list for warm-weather reds, dry, light-bodied and explosive with strawberry fruit. Delicious, emminently gulpable, and perfect for evenings on the back porch. $11.95
-2007 Travis Chardonnay (Monterey, California): Another blast-from-the-past, the Travis Chardonnay makes its return here at Emerson's. An unfiltered, unoaked Chardonnay cuvee bottled for importer Dan Kravitz, the Travis Chardonnay is bright and loaded with fruit, with a solid backbone of acidity to hold it up. A very fresh style of Chardonnay for the spring. $16.95
-2007 Saint-Damien Cotes du Rhone Vieilles Vignes Rouge (Rhone Valley, France): It seems as if it's nearly impossible to not make a knock-out Cotes du Rhone in 2007, and Saint-Damien's Vieille Vignes bottling is a candidate for one of the best of the vintage that we've tasted so far. The wine has a very compelling and complex nose, funky, brambly and slightly earthy on the palette and has a great finish. It will need some time to fully come together, but we're confident that it's one of the best sub-$20 wines from the Rhone we've found recently. $15.95
April 07, 2009 12:00