---
Spotlight
---
New Arrival: "Manakin Gold" Honey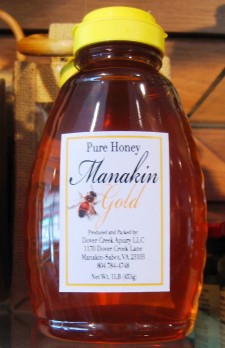 We're pleased to announce that after much anticipation, we've received our first shipment of "Manakin Gold" Honey from Dover Creek Apiary. Jim & Eva Tashjian-Brown and their colony of bees have been hard at work over the past few months, and we're proud to now carry the resulting locally-produced honey.
From Jim & Eva:
"Manakin Gold is produced by the Dover Creek Apiary in very limited quantities. This is our first release, from four hives located in a single field in Manakin, Virginia. The primary sources of nectar this spring wer tulip poplar trees and white clover. Obviously, the bees go anywhere they want (within about a three mile range), so other likely sources are buckwheat, holly, and other wild flowers.

No one could assert that a honey is "organic." Bess will fly where they can and there is no way to control everything in the air, water, and earth within their entire range. On the other hand, we have gone to great lengths to produce as natural and chemical free a product as possible. We do not spray any of our fields, fruit trees, or home garden. We do not put chemicals or antibiotics in the hives. Instead we us natural methods to combat the bees' enemies.

We do not pasteurize or filter our honey. The taste and nutrition are so much fresher with raw honey. If your honey should ever crystallize, it is easy to reliquify. Merely place the container in warm/hot water for a few minutes. The honey will return to its liquid form."
Available in an 8oz. container for $5.95 or in a 1lb. container with a gift bag for $10.95.
July 22, 2009 10:53
---
2007 Grand Veneur Cotes-du-Rhone Rouge Reserve in a 3L Box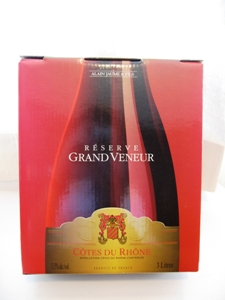 We're always glad to see Alain Jaume's Grand Veneur Cotes du Rhone Reserve every time a new vintage rolls in, and with the outstanding quality of the 2007 vintage, our enthusiasm was even higher than usual. Here's what the Wine Advocate (#183, June 2009) had to say about the 2007 vintage of the Grand Veneur:
The outstanding 2007 Cotes du Rhone Reserve red (80% Grenache and 20% Syrah) is a killer bargain. A deep dark ruby color is followed by copious quantities of kirsch liqueur, forest floor, licorice, and pepper notes. The expansiveness on the palate, broad, velvety mouthfeel, and full-bodied style are remarkable at this price point. Drink this beauty over the next several years. 90 pts.
While we did get a few cases of the regular-sized bottles, what we're really excited to offer for the first time is the Grand Veneur Cotes du Rhone Rouge Reserve in a box! We've never befor been able to offer such good quality in a bag-in-a-box format until now. At $35.95 for a 3-liter box, it's equivalent to buying 3 bottles and getting a 4th bottle for free.
July 15, 2009 12:42
---
OUR JULY TASTING: Wines of Spain, Wednesday, July 22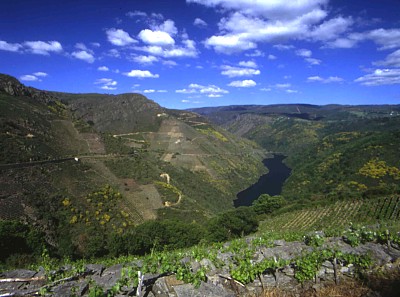 image courtesy of
http://www.ribeirasacra.org
Please stop by the shop on Wednesday, July 22 from 5:30pm to 7:30pm as we taste through a line-up of some of our favorite Spanish wines. Without a doubt, the massive changes in viticulture and winemaking that have swept through the world of Spanish wine over the past 10 years have completely changed the way the rest of the world perceives the wines of Spain. Join us as we open up these wines that both pay homage to Spain's wine traditions and also open up new frontiers for the future of Spanish wine. We'll have the following wines open to taste, and discounts will be made for these wines during the tasting:
2008 Ameztoi Getariako Txakolina
2006 A Coroa Valdeorras Godello
2007 Peza do Rei Ribeira Sacra Mencia
1981 R. Lopez de Heredia "Vina Bosconia" Rioja Reserva
2004 Cellers Pasanau "La Planeta" Priorat
July 15, 2009 12:22