---
Spotlight
---
The Brave New (Old) World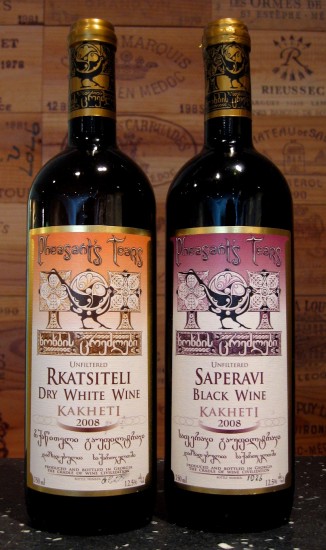 One of the most exciting developments in the wine world today is the revitalization of ancient grape-growing regions that have in modern times been relegated to historical footnotes. Regions such as Campania in southern Italy and Galicia in Spain's green northwest are areas that immediately come to mind, as their vineyards were highly venerated in antiquity, and up until very recently, the quality of their wines severely lagged behind their historical reputations. With the advent of modern viticultural techniques and the enthusiasm of a young generation of vignerons, these languishing vineyards have quickly sprung back in terms of relevance, and are now creating waves in the international wine community.
The Republic of Georgia is a perfect example of this revival of ancient vineyards—this is the cradle of wine civilization, with evidence of grape growing going back over 7,000 years. While the history of viticultural traditions in the region is extremely rich, much of this tradition has been ignored and tossed to the curb in favor of international grape varieties and modern winemaking, in an effort to remain relevant in today's global wine market. However, a few pioneers in the region are looking to the past for inspiration instead of looking at stainless-steel fermentation vats and Cabernet Sauvignon as their path to salvation.
We are excited to present two new wines here at J. Emerson's from Pheasant's Tears Winery from the Republic of Georgia. Taking their cues from the ancient techniques of fermentation in large earthenware amphorae (called "Qvevri") buried in the ground, the team at Pheasant's Tears draws upon traditional Georgian winemaking techniques and employs only indigenous Georgian grape varietals. Their vineyards are all cultivated organically, without the help of pesticides or commercial fertilizers, and their wines are fermented using only naturally-occuring yeasts and with extended contact with the grapes.
All this said, this could easily be a recipe for natural winemaking gone wrong, a Luddite approach yielding harsh and unpleasant wines with plenty of character, but little to offer in the way of pleasurable drinking. However, we've been impressed with the purity of their wines expression of the Georgian terroir, and we don't think that we've come across anything quite like them before. We plan to have the wines open for tasting in the coming weeks, and we hope that you'll join us to experience these compelling and unique wines from our friends at Pheasant's Tears.
April 30, 2010 10:42
---
Under the Radar: Recent Arrivals, April 2010
While our monthly newsletter is our primary conduit for information regarding new wine arrivals at J. Emerson, many great wines regularly sneak in through the door at the shop with nary a blip on the screen, completely under the radar but still altogether well deserving of your attention. Here are a few that we've received in the past few weeks that are worthy contenders for immediate placement in your drinking vessel of choice: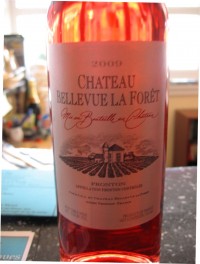 2009 Ch. Bellevue La Foret Cotes du Frontonnais Rose: We've been proudly extolling the virtues of several red wines from this venerable producer from Southwest France for some time now, and we're happy to announce that the new vintage of their rose is a great addition to our 2009 pink wine lineup. A blend comprised primarily of the indigenous local varietal, Negrette, along with supporting cameos by Gamay and Syrah, the Bellevue La Foret rose exhibits an assertively musky aroma balanced with impressions of fresh strawberries. Bold and full-flavored, we were impressed by character that this wine offers for such a modest pricetag. $9.95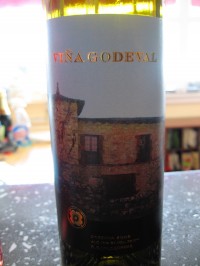 2008 Vina Godeval Valdeorras Godello: If you have familiarized yourself at all with white wines from Spain, you're likely familiar with the grape Albarino, the poster child varietal of the country's northwest corner. Equally impressive and also native to Galicia, Godello is a grape that is certainly a rising star in terms of Spanish white wines, balancing an expressive richness on the palate along with a precise and focused structure. The 2008 vintage of the Vina Godeval is a testament to the quaffable deliciousness of this native Spanish grape that only a few years ago was nearly banished to the history books because of neglect. $17.95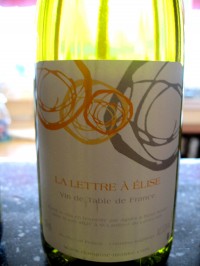 Agnes et Rene Mosse "La Lettre a Elise" Vin de Table (2008 vintage): Chenin blanc can be a hard grape to love. While it's incredibly versatile in its various guises (dry, sweet, & sparkling), the waxy, wooly texture coupled with its propensity to lean toward the earthier-end of the flavor spectrum can leave many drinkers non-plussed, perhaps understandably so. In light of this, we're very happy to offer this great example of dry Loire Valley Chenin Blanc that we think will appeal both to the Chenin Blanc geeks (yes, both of you), and the rest of us, who might approach the grape with some measure of trepidation. The grapes for this cuvee from Domaine Mosse are entirely sourced from the village of Montlouis (across the river, opposite Vouvray), but because the Mosse's winery lies outside the bounds of the village, the wine cannot legally bear the Montlouis appellation. Regardless, we're smitten with this wine's lush purity of fruit, exuberance and lengthy finish. If you're burned-out on White Burgundy, give this a spin around the block for a refreshing change. $29.95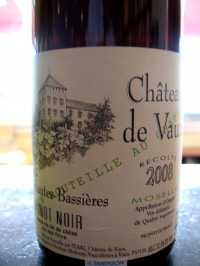 2008 Chateau de Vaux "Les Hautes-Bassieres" VDQS Moselle Pinot Noir: Gorgeously poised, svelte and understated example of Pinot Noir from the northerly climes of the Moselle, in France's Lorraine region. Wine from this pocket of France is seldom exported to the US, as the entire region typically produces less than 17,000 cases of wine annually, a fraction of what many well-known California wineries produce in a single vintage. A head-turner for those who prize elegance and finesse in their Pinots. $19.95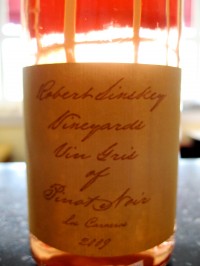 2009 Robert Sinskey Vin Gris de Pinot Noir Rose: Every year, this is one of our favorite roses from anywhere, domestic or imported. Unfortunately, we are allocated very little of it, so there's not much to go around. Gossamer and delicate, the unmistakable character of the Pinot Noir grape is clearly displayed in this wine. If you count yourself as a rose connoisseur, you owe it to yourself to pick up a bottle of the Sinskey before it's gone for the season. $27.95
April 09, 2010 2:09