---
Spotlight
---
Beer of the Week: Brasserie Dupont "Saison Vieille Provision"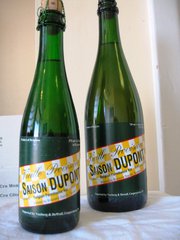 Okay, so perhaps this may come as no news to some of you—Belgium's Brasserie Dupont makes some amazing beer. Nothing new here—they've been brewing their Saison since 1844 with what seems like very little change. So if you've known about this beer for ages and ages, please pardon this interruption. But if you're among the uninitiated, pay attention—this could very well be one of the most delicious beers in the entire world.
We realize that this could be construed as outrageous hyperbole, but we're willing to stick our neck out on this one; it's that good. A gorgeous cloudy and simultaneously brilliant yellow color, Dupont's "Saison Vieille Provision" is marked more than anything by it's terrific balance—nothing is out of place. It's slightly bitter (but not too bitter!), spicy (but not too spicy!), and even a bit fruity (but not sweet). It's a great beer on its own, but it excels with many foods, and does particularly well with hot and spicy foods that are often a challenge to pair with many wines.
We stock Dupont's Saison in both 750mL and 375mL bottles for your drinking pleasure, and we'll have it open for tasting at our Belgian ale tasting tomorrow (4/1) from 5:30 to 7:30pm. Even if you've walked past this iconic label for years, it's not too late to discover what you've been missing!
April 01, 2011 9:37